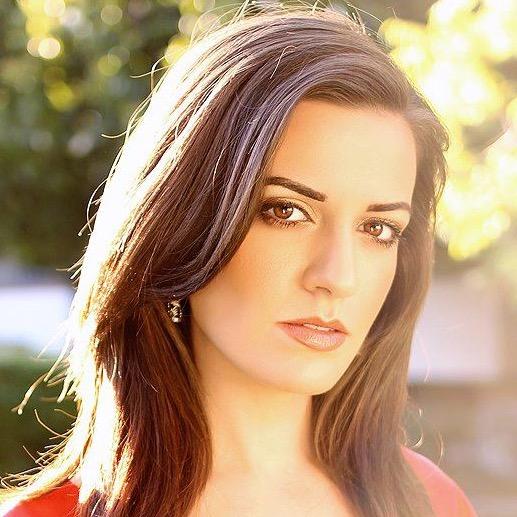 Jenna Moreci is a debut author with Eve:The Awakening. You can read my review right here. You should also check out my tag New Kid On the Block where she was featured at.  Now you guys should be caught up or know a little bit about her. I also make references to her and her book throughout my posts. I highly recommend reading Eve, because it is really good book. I got a chance to interview her and I'm so thankful to be able to interview her. You might want to check out her YouTube channel ,which is linked in New Kid On The Block, first. I have a good reason why I just can't get it to come to word form. I'm tempting to say its polite, that's not the reason why. Without further a do let's get it into it.
What made you decide to start your YouTube channel? Did you ever think your channel would be as successful as it is?
People had been nagging me to start a vlog series for a long time before I finally bit the bullet. They said I had the personality for it, given my sense of humor and propensity for brutal honesty, but the thought of plastering my face all over YouTube wasn't exactly appealing—I may be a goofball, but I'm still an introvert. But once interest in EVE spiked, it became clear that vlogging was going to be an inevitable step. I was flooded with requests for writing assistance from aspiring writers, and I figured that a vlog series offering advice would be a lot more valuable than individual critiques, because I could reach a bunch of people in a week as opposed to just one person at a time. That said, I had no idea it would become as successful as it is. It still feels surreal   
2. What are your future plans for your YouTube Channel?
I don't plan on making too many changes. I want to keep helping people. I know how overwhelming it feels to be new to the writing process, and if I can help lighten the load for someone, I'm going to do that. But I'll probably end up throwing in a few videos here and there that offer a look into my life. I had never intended on doing this, but it's been heavily requested. Could be fun 🙂
3.I hear many people say write what you know or write what you believe in do you believe in any of these sayings? Why?
I do. Obviously there are certain things none of us know about. No one knows what it's like to be a werewolf, or a super hero, or an alien. But I think the emotions you choose to channel should be authentic and familiar. I don't know what it's like to be on trial for murder, but I do know what it's like to feel ostracized. I don't know what it's like to be telekinetic, but I do know what it's like to fall in love. These are feelings that I channel into my storytelling in order to create a visceral experience for the reader. I want it to feel real.
4. What's your favorite part being an author? What's your least favorite?
Being able to write every day is amazing. Nothing compares to that. But aside from that, my favorite and least favorite parts of being an author are actually the same thing: the outpouring of support and fan interaction. It's a double-edged sword. Few things give me greater joy than hearing that my writing has inspired or touched another human being. That's my goal: I want to lift people up. But at the same time, I receive hundreds of messages a day, and it can be overwhelming. Sometimes the messages are demanding, intrusive, or even hurtful, and there are days when I feel as though I have no privacy. But I think that's the sacrifice you make when you engage with your audience on such a personal level.
5.Eve: The Awakening is your debut novel what was your favorite part about writing it?
Well, the writing itself is always my favorite part. But other than that, to be frank, one of the best parts of writing my debut novel was proving the naysayers wrong. So many people rolled their eyes when I announced that I was writing a book. "Sure, Jenna. Sure." And those same people are now saying, "Hey, don't forget about the little people!" Achieving your ambitions is always an incredible feeling, but it feels even better when you do it on your own. It's a reminder that you don't need help or support to get to where you want to be. The haters are irrelevant.
6.Out of all your characters in Eve: The Awakening who was your favorite to write about? My favorite character is Percy hands down.
Percy is my favorite as well. We have very similar senses of humor, so it's really easy for me to write for him; he essentially says all the sarcastic crap I (try to) keep to myself.
7.Do you have any idea when the next book is going to be out?
The sequel to EVE: The Awakening will most likely be out in about a year, but the book I'm currently working on will be out much sooner than that.
8. I remember in one of your videos you mention two books at once how is that working out for you? I hope this doesn't sound sarcastic because I'm dead serious writing one book alone is difficult, but two that's plain crazy. Then again Jennifer L. Armentrout writes and releases a crazy amount of books each year. I guess it's not for everyone.
It's not something I'd recommend to everyone. I've been writing the sequel to EVE as well as the first book in a new fantasy series for a while now. It's not easy balancing two manuscripts, but I'm just happy that I'm at a stage in my life where I can actually do that.
9.Did you expect Eve: The Awakening to do as well as it is doing?
Out of the gate? No. I'm still in shock that her debut was so successful, and I can't believe how amazing the reviews have been. That's not to say that I wasn't confident in her story. I just didn't expect people to be so receptive so early into the process. This whole thing has been a dream come true for me.
10. For all the people who haven't read the book can you describe the book in three to five words without spoiling it for anyone?
Gripping, relatable, hilarious, romantic, and shocking.
11. Marry, Kiss, or Kill choices are Jason, Percy, Sancho.
Marry Jason, kiss Percy, kill Sancho. Sorry, Sanch, but you're not exactly a Casanova.
12.Not to be playing favorites, but since I'm curious who is your favorite character?
I have several. I can't help it.
Eve: she's a pillar of strength. I believe that when people endure hard circumstances, they either let the hardship destroy them, or they use it as a means to become smarter, tougher, and more compassionate. Eve is reflective of the latter option. I have a lot of respect for people like that. They're the sort of people I want in my life.
Jason: I can relate to Jason. I know how difficult it is to feel the kind of pressure he's facing. He's having to decide between embracing his true calling or the one laid out for him by people who think they know better. That's a difficult spot to be in, especially when you're young, and especially when the people who "know better" are powerful.
Percy: he's just good peeps. He's just as flawed as everyone else in the book, but he wears it better. And he cares so much about the people in his life, whether he verbalizes it or not. His actions speak for him.
Heather: shocking, I know, but I love writing for Heather. She's brilliant. She's sociopathic. It's unfortunate she's so deranged; with her level of cunning, can you imagine what she could accomplish if she were on the good side? But I like her as a villain, because there are few things more frightening than a person who's both intelligent and unfeeling.
There you guys have a interview with Jenna Moreci if you didn't know about her before now, now you do. Comment below your thoughts. You should also check out Eve: The Awakening when you get a chance to. Remember to keep looking for your Once Upon A Time.